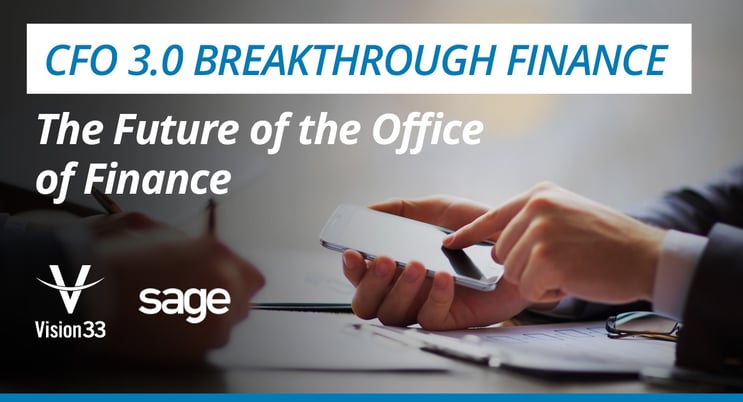 To help businesses get more value from their enterprise technology investment, Vision33 recently hosted a three-day Virtual Customer Event. The agenda offered something for everyone: sessions for staff who use ERP solutions like Sage Intacct daily, presentations for managers and leaders tasked with system and process improvement, and thoughtful insights for company executives and owners.
Because Chief Financial Officers (CFOs) recognize the positive effect data-based insights have on strategy and growth, they adopt enterprise resource planning (ERP) solutions to empower financial managers to make sound decisions. In CFO 3.0 Breakthrough Finance: The Future of the Office of Finance, David Rumer, Vice President of Market Development for Sage Canada, focused on how CFOs and their teams drive value for their organizations today and how they'll continue to do so into the future.
Financial Evolution
Rumer says, "Advances in technology are having a serious and disruptive effect." CFOs' roles are evolving. Senior management increasingly relies on CFOs to identify emerging markets, evaluate growth opportunities, and look for new investment areas.

To identify the catalysts responsible for the modern CFO, we analyze factors that drive trends – including culture, technology, mobility, and business modes. As these changes keep pace with the demands placed on CFOs, their evolving role becomes one of a quasi-oracle revealing the path forward during uncertainty.
CFOs have access to volumes of accurate data thanks to business management software, but it's the enterprise technology's constant evolution that powers data insights. That's why it's essential to factor in today's business needs as well as long-term business needs when considering your next technology investment.
Research Findings from CFO 3.0 Breakthrough Finance
Sage commissioned a third party to survey the effects of digital transformation on finance departments. Over 300 CFOs, controllers, accountants, and finance VPs weighed in on the changes in their roles. They reported that adapting to change and expectations and modernizing business processes with technology are the biggest challenges facing finance today.
Driving Organizational Value Today and Tomorrow
The survey shows that CFOs feel they play a vital role in driving their organizations' digitization, including replacing manual paper-based processes to improve process efficiency and data accuracy and implementing the technologies that power real-time reporting and analytics. The CFOs' insights can only be as good as the data.
Enterprise Technology as a Disruptor and Enabler
The current world landscape shows us that the next normal is learning to pivot, adapt, and identify new opportunities during disruption.
"Chief Executive Officers see that growth relies on the ability to challenge and disrupt any business norm," explains Rumer. For example, companies like Amazon and Netflix have used technology as a disruptor and adopted new game-changing business models like subscriptions.
Building High-Performing Teams for Tomorrow
"…CFOs and the office of finance have the opportunity to be growth catalysts with their organizations," affirms Rumer.

Whether through predictive analytics, process automation, or artificial intelligence, CFOs and finance offices are in a unique position. As leaders of technological innovation and adoption for the enterprise, there's a tremendous opportunity for businesses to further automate operations, improve the strategic guidance they provide other C-level executives, and obtain deeper insights into financial health.

For more on the future of the CFO's role and the finance profession, click the button below to watch the recorded presentation.